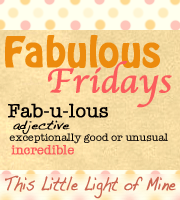 Fabulous Friday's
has not been doing that well :( It's a bit sad because we should all have some
fabulous
in our lives! and want to share it. I'm hoping I will get some participates this week! I know everyone is busy, so I completely understand. If you've had something fabulous go on this week, anything that you made your day, or week, link up and share!
* My Husband. He's fabulous every week. But I don't feel like I
thank
him enough for his fabulousness. :) This week we saw an impromptu Matinee showing of Super 8 on MONDAY. Who does the movies on a MONDAY? Not many... and it was awesome :) There was all but 10 people there... Definitely didn't have to SHHHHH people!
always making me laugh!
* I got a new URL for my blog, thus a new blog name. If you are reading this, you've obviously found your way to my new blog home.
YAY!
I hope you will follow me here as well :D
This Little Light of Mine
was entirely to popular. I wanted something a little more me, a little more
unique
. Thus,
Brown Eyed Bell(e).
If you read around the blog enough, you will see why this name is
so
fitting. And I
love
the header and buttons that my friend
DaisyJo
made for me. Check her out if you are ever in need.
* I started learning more about pinterest and actually
using
my account. And what do you know, I like it! I love the idea of being able to catalog things that catch my eye, in one place. Such a cool idea. Even the name is nifty. Pinterest. Get it? P as in Pictures... that INTEREST you? and to share them, you PIN them to your boards? hehe. Someone is making some money! Anyways, you can find me
HERE
* My girlfriends and I had our first craft night last night. Normally we get together and watch Gossip Girl, Spartacus, or something random, however we wanted to start changing our Thursday nights to be more crafty. Tonight we didn't craft, BUT, we did learn how to coupon better. We've all been dabbling in couponing and tonight we shared our tricks of the trade. We all had little tips we've already learned along the way. The best part, of course, was just hanging with 5 of my best girlfriends! Love nights like that :)
* My SPCA outfit from yesterday. I love rocking gear to support my local SPCA! Yellow shirt underneath = JCP, I <3 myspca tank =
SPCA, Inc
, Jeans = JCP, Flip Flops = Old Navy
* I've had the domain
http://www.4paws4love.com
for awhile now, and I just now figured out how to link my
4Paws4Love
blog up to it this week. SO, that is all set up, and if you like pets, you should follow my pet blog,
4Paws4Love
. I just posted some adorable pictures of my two "boys" tongues hanging out in the Florida sun yesterday.
And I'll leave you with a
fabulously adorable
picture I came across on Pinterest last night:
Oh yeah, and for more smiles, be sure to head over to my pet blog,
4paws4love
and check out my post from yesterday. Doggies outside having the time of their life, hence their long tongues a waggin' in the Florida heat.