I know I've mentioned it before, but I figured as the year ends I'd mention it again, just in case anyone has decided to join up with me.
In 2012 I'd like to read through the entire Bible in one year.
I've never read the entire Bible, so I am excited of this challenge. And I am quite aware that as it will be fast paced. But, I still want to do this.
I had actually grabbed a copy of
The One Year Bible, the entire New Living Translation arranged in 365 daily readings
for $2 at my newest favorite book store, and was quite excited by that find....
and then, last Sunday (Christmas) as I was sitting at church, reading over our bulletin, this caught my eye:
2012 is almost here! We are excited for new opportunities for spiritual growth in the coming year. We're asking God to make 2012 a year of Mobilizing our Church for Growing and Going. So get Growing and take the Read through the Bible in a Year challenge. The schedule will be printed each week in our Worship Guide.
And just like that, not only was
I
planning to read through the entire Bible in a year, but many members of my church as as well. Which means I will have multiple accountability partners.
THIS IS GREAT!
Can we say God's perfect timing?
I am so excited to start this challenge on January 1st, and while I realize it will be a tough one, finding the time each day in our already busy lives, I hope that maybe one or two (or more) of my followers will join me in this challenge. I had thought about doing a weekly link up but wasn't sure how many would actually want to participate. Then I thought maybe instead of doing a Bible in a year link up, I'd just do a general link up of what God is teaching you this week, or what you've read in the Bible this week.... What do you all think? Opinions please. :)
Also, if you missed it yesterday, and need a dose of cuteness, check out my
4Paws4Love Pet Blog
to see my furbabies newest sweaters!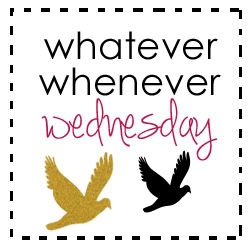 Also linking up with my friend Erin for
What I Wednesday...
as technically, this Wednesday, I am telling you what I am planning to do in 2012. :)