Just in case it happens to be your first time stopping by
Thankful Thursday
let me tell you a bit about it. It's a weekly link up that myself (and other bloggers) host every week in which we list off things we are thankful for. Now these things can be serious or completely ridiculous, BUT, something we are thankful for nonetheless. I leave my link up open for an entire week because honestly you shouldn't just be thankful on Thursday, but EVERYDAY. And you are welcome to link up with me
whenever
. :) I'd love to have you join in on our fun! The button is below, feel free to grab one and link on up!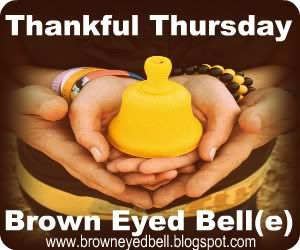 ♥ authentic taco's. mmmm. I could eat these bad boys every day.
♥ my tempurpedic bed. this ties into the good nights sleep from last weeks Thankful Thursday post. nothing like a tempur!
♥ trying new recipes. I tried a few last week. some failed, some will be made again.
♥ a mini road trip to Port Saint Lucie last weekend to visit one of my best friends.
♥ having time to catch up with two of my best friends as we drove to Port Saint Lucie.
♥ a good phlebotomist. I had to have my yearly CBC blood work done yesterday and
usually
I am a hard prick. yesterday? It took longer for me to
park
than it did to get signed in AND have my blood drawn. That was a first.
♥ enlightening conversations. sometimes you just never know what is really going through someone's mind. if you have something to tell someone,
tell them!
♥ that my laptop is hanging in just long enough to publish this post. I really hate this HP that I have. It's overheated since day one and sometimes just doesn't function. Regardless, I realize I am blessed to even own a laptop, SO, I am thankful for it.
♥ that you guys still love me even though I don't post lotsa cool pictures with every post? I am a horrible blogger sometimes, LOL. I don't have a nice camera though, so I just snap what I can and make do! works for me
♥ coupons. I love saving any penny that I can!
I am linking up with some other Thankful Thursday's this week:
The Fontenot Four
,
Kate Says Stuff
,
A Punk, A Pumpkin, and a Peanut
,
Black Tag Diaries
, &
First Day Of My Life
.
What are YOU thankful for?