Just in case it happens to be your first time stopping by
Thankful Thursday
let me tell you a bit about it. It's a weekly link up that myself (and other bloggers) host every week in which we list off things we are thankful for. Now these things can be serious or completely ridiculous, BUT, something we are thankful for nonetheless. I leave my link up open for an entire week because honestly you shouldn't just be thankful on Thursday, but EVERYDAY. And you are welcome to link up with me
whenever
. :) I'd love to have you join in on our fun! The button is below, feel free to grab one and link on up!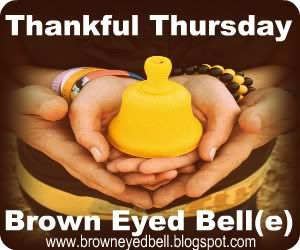 This week I am thankful for:
♥ an overcast week that has made my morning walks pretty enjoyable. usually by June in Florida, if I want to walk without a heat stroke, I have to start real early. I've still been able to start my walk as last as 11am and be okay.
♥ that I got off early enough on Father's Day that I was still able to spend time with my Daddy. I didn't get off in enough time to cook him an awesome dinner but I was still able to order pizza and watch Breaking Dawn (HIS choice) with him.
♥ Uno's pizzeria. They are one of my favorites and I went there last Friday. Plus I got to meet up with my cousin in Orlando so it was double awesome.
♥ another awesome night at the race track. I am so glad my friend Amanda got me back into going. I hadn't been in
years
and I forgot how much fun I had. I need to take my Dad with me soon, he loves races.
♥ that Ryan and I have someone to mow our yard. We only have a push mower and that just is not sufficient for 2 acres. Thankfully Ryan has a friend at work with an industrial mower that we pay to come out and mow it weekly.
♥ Strawberry Watermelon Gatorade. What an awesome flavor for the summer!!
♥ My puppies. They melt my heart, always. Bullseye will find anywhere to sleep on me.
♥ The original Teen Mom cast returning for one last season. This is a guilty pleasure of mine. I love Maci & Catelynn! They are my favorites!
♥ random Mexican taco stands on the side of the road. Think what you want, their food is amazing! The picture below is a torta which is kind of like a Mexican hamburger. YUM!
I am linking up with some other Thankful Thursday's this week:
The Fontenot Four
,
Kate Says Stuff
,
A Punk, A Pumpkin, and a Peanut
,
Black Tag Diaries
, &
First Day Of My Life
.
What are YOU thankful for?