I'm a little late to the Thankful Thursday Link Up parties this week, but, better late than never, eh?
Just in case it happens to be your first time stopping by
Thankful Thursday
let me tell you a bit about it. It's a weekly link up that myself (and other bloggers) host every week in which we list off things we are thankful for. Now these things can be serious or completely ridiculous, BUT, something we are thankful for nonetheless. I leave my link up open for an entire week because honestly you shouldn't just be thankful on Thursday, but EVERYDAY. And you are welcome to link up with me
whenever
. :) I'd love to have you join in on our fun! The button is below, feel free to grab one and link on up!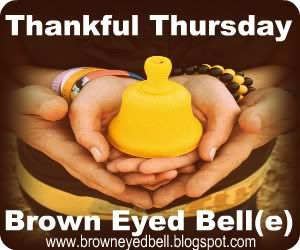 This week I am thankful for:
♥ a whole day of fun with my best friends step kids whom I consider to be my niece and nephew. we went to the lake and fed the ducks, went to a local park, ate at 5 guys, and swam in my pool, all before I rushed off to work.
♥ the ability to laugh at myself :)
♥ these adorable candles that my room mate brought me back from her trip to Georgia. She knows me well. Clean Linen is my favorite candle scent!
♥ that three of my friends that needed a job have all found one within the last two weeks. God is good.
♥ pool time with my pups
♥ that Monday we are having someone come out and install a sulfur filter, yay, no more rotten egg smelling well water. YUCK!
♥ what my Dad thought was his transmission going out in his van apparently isn't.
♥ random compliments
♥ a Wet & Wild trip that I get to take tomorrow. Hooray for water adventure parks.
That's just a few of the things I have to be thankful for this past week, I hope you have some of your own as well!
I am linking up with some other Thankful Thursday's this week:
The Fontenot Four
,
Kate Says Stuff
,
A Punk, A Pumpkin, and a Peanut
,
Black Tag Diaries
, &
First Day Of My Life
.